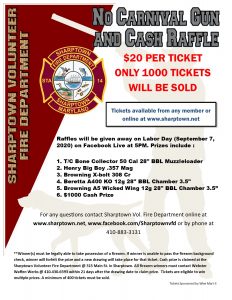 The Sharptown Volunteer Fire Department presents:
No Carnival Gun and Cash Raffle
Tickets are $20 Each, Only 1000 tickets will be sold.
Tickets available online or from any member. Tickets purchased online will be emailed.
Raffles will be given away on Labor Day (September 7 2020) on Facebook Live at 5PM. Prizes include :
1. T/C Bone Collector 50 Cal 28" BBL Muzzle loader
2. Henry Big Boy .357 Mag
3. Browning X-bolt 308 Cr
4. Beretta A400 KO 12g 28" BBL Chamber 3.5"
5. Browning A5 Wicked Wing 12g 28" BBL Chamber 3.5"
6. $1000 Cash Prize
For any questions contact Sharptown Vol. Fire Department online at www.sharptown.net, www.facebook.com/Sharptownvfd or by phone at 410-883-3131
**Winner(s) must be legally able to take possession of a firearm. If winner is unable to pass the firearm background check, winner will forfeit the prize and a new drawing will take place for that ticket. Cash prize is claimed at the Sharptown Volunteer Fire Department @ 315 Main St. in Sharptown. All firearm winners must contact Webster Waffen Werks @ 410-430-6593 within 21 days after the drawing date to claim prize. Tickets are eligible to win multiple prizes. A minimum of 400 tickets must be sold.