Dive Team
Underwater Rescue Team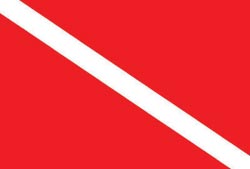 The scuba team was formed in 1985 when 10 members began training in Search & Recovery diving through the YMCA program. In June of 1986 six members became certified as Search & Recovery divers. Since that time other members have gone on to join this team. These individuals give many hours for training. Most of the waters they dive in have low visibility. They work with divers from Seaford, Laurel and Blades.
Safety is the key word for dive team members, no member is required to dive if they do not feel capable of the task.
Recovery The goal of water rescue is to save lives. But, because of the many factors involved in water accidents – time in or under the water, temperature of the water, age and health of the victim, traumatic injury, technical difficulty of the rescue operation – sometimes saving a life is not possible. However, providing friends and family of a water accident victim with the body of their loved one can also be a public service. One of the most traumatic and emotional aspects of a drowning is how quickly it happens. One minute a healthy, vital, often times young individual is actively engaging in some type of water-borne activity. The next minute, they disappear from sight. To endure this kind of loss would be very painful, indeed. To suffer this kind of loss without ever knowing for sure what happened to your friend or loved one would be even more unbearable.
Lester Huss – Captain
Howard Bowden
Cecil Bradley
David Brown
Billy Adkins
Eric Gosnell
John Cooper
Ben Eskridge