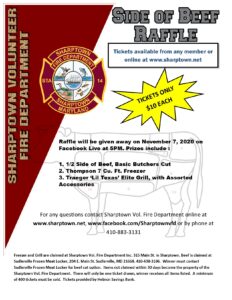 The Sharptown Volunteer Fire Department presents:
Side of Beef Raffle
Tickets are $10 Each
Winner takes all!
Tickets available online or from any member. Tickets purchased online will be emailed.
Raffles will be given away on November 7, 2020, on Facebook Live at 5PM. Prize includes :
1. 1/2 Side of Beef / Basic Butchers Cut
2. Thompson 7 Cu. Ft. Freezer
3. Traeger 'Lil Texas' Elite Grill with Assorted Accessories
Online sales have ended for this raffle, thank you to all that have purchased tickets
For any questions contact Sharptown Vol. Fire Department online at www.sharptown.net, www.facebook.com/Sharptownvfd or by phone at
410-883-3131
Freezer and Grill are claimed at Sharptown Vol. Fire Department Inc. 315 Main St. in Sharptown. Beef is claimed at Sudlerville Frozen Meat Locker, 204 E. Main St. Sudlerville, MD 21668. 410-438-3106. Winner must contact Sudlerville Frozen Meat Locker for beef cut option. Items not claimed within 30 days become the property of the Sharptown Vol. Fire Department. There will only be one ticket drawn, winner receives all items listed. A minimum of 400 tickets must be sold. Tickets provided by Hebron Savings Bank.